Multiple Poses: Yoga and MS
May 5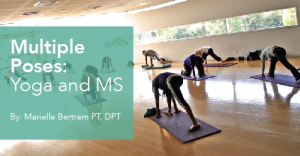 By: Marielle Bertram PT, DPT, Quarles Court Virginia Center
Multiple sclerosis has become more prevalent within the past decade, affecting more than 2.3 million people worldwide. It is a disease in which the body's own immune system attacks and damages the myelin in the central nervous system, slowing nerve conduction and producing physical, emotional and psychological symptoms.
Among MS patients, according to research estimates, up to 90 percent experience impaired mobility; 75 to 95 percent, fatigue; and more than 85 percent, chronic pain. High levels of stress, anxiety and depression independent of a specific physical disability have been reported.
Symptoms and experiences are unique to each person and can range from mild to progressive physical and neurological impairments. To date, the cause and cure for MS remain unknown, although techniques to manage symptoms are evolving daily.
Yoga is a beneficial alternative and complementary treatment that easily can be tailored to meet individual needs.
Get Zen Facts
Therapeutic yoga is defined as "the application of yoga postures and practice to the treatment of health conditions and involves instruction in yogic practices and teachings to prevent, reduce, or alleviate structural, physiological, emotional, and spiritual pain, suffering, or limitations."
Research has found that yoga reduces depression, pain and fatigue; improves lung capacity, bladder function, strength, flexibility, body awareness, muscle relaxation and quality of life; and lowers stress levels and blood pressure.
Yoga, You Down Dog?
Yoga combines poses, featuring playful names such as downward dog, with breathing and meditation. Its practice, according to the National MS Society, provides tools to help manage everyday tasks such as balancing to stand or walk, strengthening and postural alignment for performing transfers, and core strengthening for daily activities.
Practitioners become more aware of their breathing and how it affects every part of their bodies. Breath awareness can be a powerful tool in calming the mind and relaxing the body.
Where to Begin?
Yoga styles and practices vary, and most studios offer classes with varying degrees of difficulty. It is important to find the class that is the best fit for you. Certified yoga instructors teach yoga classes in studios, private homes, and workshops; some professional yoga therapists teach in physical therapy clinics.
Beginners can benefit from working with a qualified instructor to learn proper alignments, adaptations that work best for their physical needs, and how to use props.
Prior to working with anyone, ask how long the person has been teaching, his or her qualifications, what style he or she teaches, and whether he or she has worked with anyone who has MS. Make sure to discuss how your body is feeling, whether you are in a period of exacerbation, and what your individual needs are.